Daily Menu
Chicken

Roasted Beef

Pulled Pork

Fish Sandwich
Burgers

Ruebans

Salad

Wraps
Better than "state fair" cheesecurds
SPECIALS
Friday night fish special – $12.99
5 P.M. – 8:30 P.M. Every Friday Night
Choice of deep fried Cod Loins, Grilled Tilapia or both. Comes with choice of potato, coleslaw & a dinner roll.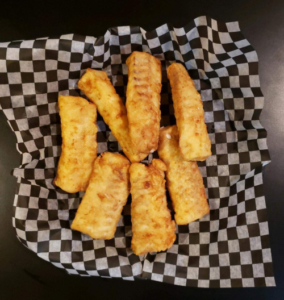 Sunday Dinner – $12.99
Noon – 8:30 P.M.
Famous broasted chicken. 1/2 chicken broasted crisp to perfection comes with choice of baked potato or mashed potatoes served with chicken gravy and coleslaw.
Breakfast
Homestyle Breakfast
Sunday: 8 A.M. – 11:30 A.M.
Made to order omelettes, Biscuits & Gravy, Pancakes, Frenchtoast or Hashbrowns